Main content starts here, tab to start navigating
Our Menu
Check out our specials for the latest in-season fish and seafood. View the menu below or download.
Appetizers
Maryland Style Crabcakes

Remoulade, scallion oil and micro greens

$19

Calamari Fritti

Sweet chili sauce and cajun remoulade

$17.50

Baked Crab & Artichoke Dip

Topped with grated Romano cheese

$16.50

Ahi Tuna Poké

Fresh Yellowfin tuna, yuzu kosho avocado purée, ponzu sauce, sliced sweet Maui onion, garnished with green onion and served with wonton crisps

$18.50

Grilled Spanish Octopus

Potatoes, garlic aioli and brava sauce made with tomato, paprika, onion and garlic

$21
Shellfish
New England Clam Chowder

Sea clams, cream, celery and potato with Vermont oyster crackers

cup 10 | bowl 13.5

Oysters on the "Half Shell"

Mix and match a ½ dozen from today's selection

$19.50

Ponzu Sashimi Sea Scallops

Wasabi aioli, masago, wakame salad and pickled ginger

$20

manhattan clam chowder

Zesty tomato base with clams, potato, onion and herbs

cup 10 | bowl 13.5

Oyster Rockefeller

Four oysters, baked with creamed spinach, melted romano, and bacon

$18.50

Mussels with Spanish Chorizo

Mussels, grape tomatoes, garlic, white wine and grilled bread

$18.50

Steamed Shellfish

Choose all clams, mussels or our "combo" in white wine, garlic and butter

$22

Chilled Shellfish Cocktail

Housemade cocktail sauce and chive oil

Prawn $17 | Lobster $24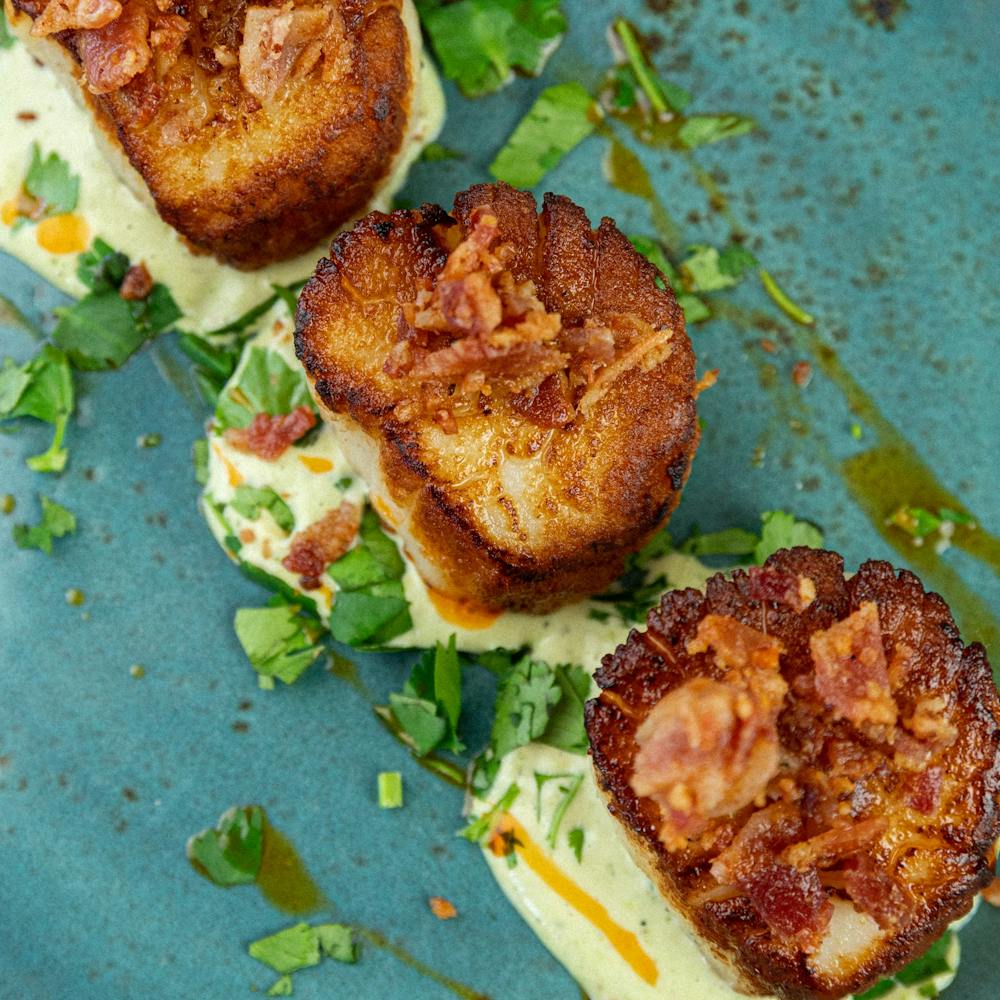 Salad
Seafood Louie Salad

Mixed greens, tomatoes, cucumber, egg, avocado, red rock crab, bay shrimp and San Francisco Louie dressing

24 or Upgrade to Lobster 27.5

Mediterranean Ahi Salad

Seared rare tuna, romaine, cucumber, kalamata olives, pickled red onion, tomato and feta with vinaigrette

$24

Crab & Avocado Salad

Arugula, mixed greens, grape tomatoes and vinaigrette

$18.50

Roasted Chicken Fall Chopped Salad

Mixed greens, roasted red and golden beets, chicken, butternut squash with walnuts, Craisins, white balsamic citrus vinaigrette and topped with goat cheese

$21

Wedge Salad with Bacon

Blue cheese dressing, grape tomatoes and red onion

$13.50

+ grilled shrimp 9 | roasted chicken 9 | 12 salmon

Caesar Salad

Romaine hearts, anchovies, fresh grated parmesan and crostini

$12

+ grilled shrimp 9 | roasted chicken 9 | 12 salmon
Sides
Garlic Fries

Marble Potatoes

Coconut Ginger rice

Sautéed Mushrooms

Sautéed Spinach

Scalloped Potatoes

Cole Slaw

Cheese grits

Chipotle Dirty Rice

$6

Risotto

Grilled Asparagus

$8
Seasonal Special
A Taste of Spain
Seafood Paella Valenciana

Shrimp, clams, mussels, Spanish chorizo, and chicken atop arborio rice with saffron, petite peas and red piquillo peppers

$32

Chipotle Blackened Swordfish

Chipotle dirty rice, smoked Spanish paprika oil, roasted corn and avocado relish

$38
Today's Fish
Tuscan Artichoke Rockfish (Snapper), CA

Coated with oven dried tomato pesto, topped with panko artichoke hearts over parmesan risotto

$26

Sautéed Sanddabs, CA

Scalloped potatoes, spinach and lemon caper beurre blanc

$26.50

Rainbow Trout Amandine, ID

Crusted with toasted almonds and sautéed, served with scalloped potatoes and sautéed green beans

$27

Pan Seared Salmon, Norway

Scalloped potatoes, sautéed spinach, oyster mushrooms and chimichurri

$30

Lemon Pepper Mahi Mahi, Pacific

Lemon pepper crust, atop scalloped potatoes and sautéed spinach with a chili cilantro hollandaise

$34

Togarashi Spiced Ahi Tuna

Seared rare over a miso butter sauce served with coconut ginger rice, sautéed green beans and ponzu sauce

$36

Pan Seared Sea Scallops

Goat cheese grits, sweet corn, asparagus and chive oil

$36

Misoyaki Butterfish, Black Cod

Miso glazed and served with green beans, coconut rice and eel sauce with green onion and daikon sprouts

$38

Walnut Crusted Halibut, AK

Orange and walnut crusted with lemon caper butter served with scalloped potatoes and asparagus

$38
Favorites
Beer Battered Fish & Chips

Served with fresh cole slaw and fries

$24

Gemelli Pasta with Shrimp & Sea Scallops

Cremini mushrooms, asparagus, pesto cream and parmesan

$28

San Francisco Cioppino

A zesty marinara sauce, clams, mussels, calamari, shrimp, scallops and fish

$36

Lobster tail

Oven baked and served with melted butter with scalloped potatoes and spinach

$58

Alaskan King Crab Legs

1.25 lbs served steamed with melted butter with scalloped potatoes and spinach

MKT

Bluewater Surf and Turf

Lobster tail and an 8 oz filet with scalloped potatoes, asparagus and blue cheese butter

$82

Prawn Linguine

Pan seared shrimp in a zesty marinara with fresh tomatoes

$25
Meat & Poultry
Chicken Under a Brick

Herb-crusted with parsley, rosemary, lemon-thyme and garlic, served with scalloped potatoes and grilledbaby carrots

$27.50

Angus Cheeseburger

With the works, cheddar cheese, and french fries

21 +Bacon or grilled jalapeño 1

14oz New York Strip

Topped with blue cheese butter, served with scalloped potatoes and grilled asparagus

$40

Filet Mignon

An 8 oz filet served with scalloped potatoes, sautéed spinach and blue cheese butter

$44
Just for Lunch
Until 4pm
Tacos

Choice of blackened fish, crispy cod, or shrimp on flour or corn tortillas, with Jack cheese, shredded cabbage, pico de gallo, fresh lime crema and avocado

$21

Shrimp Louie & Chowder

Cup of chowder with a half Shrimp Louie Salad

$18

Grilled Salmon Sandwich

Baby arugula, sliced tomato and tartar sauce

$19.50

Lobster Roll

Served hot buttered or as a chilled salad on a toasted 
brioche bun with fries or cole slaw

$28
Dessert
Housemade

key lime pie $11

mudpie $12

creme brulee $10

bread pudding $10

McConnell's

seasonal affogato $9

ice cream sundae $12
Kid's Catch
For guppies 10 years and younger. Choose an entrée and your choice of side (garden salad, veggies, wild rice, potato chips, scalloped potato, or french fries) and drink (apple, cranberry, orange, or pineapple juice or low-fat milk)
Kid's Meal

Shrimp, chicken, steak or salmon dipping sticks with ranch $9

Cheeseburger Slider or Burger Patty (no bun) $9

Mac N' Cheese $9

Linguini Marinara $9

Grilled Cheese Sandwich $9

Shark Attack

Plunge into this blueberry soda as gummy sharks circle waiting for you to feed them shark bait – red POM juice!

$4

Root Beer Float

Old fashioned root beer with a scoop of vanilla ice cream on top!

$5

Cup of Dirt with Worms

Vanilla ice cream, Oreo cookie crumbles and Gummi worms!

$4

Ice Cream Sundae

Vanilla ice cream, chocolate syrup, whipped cream and a cherry!

$4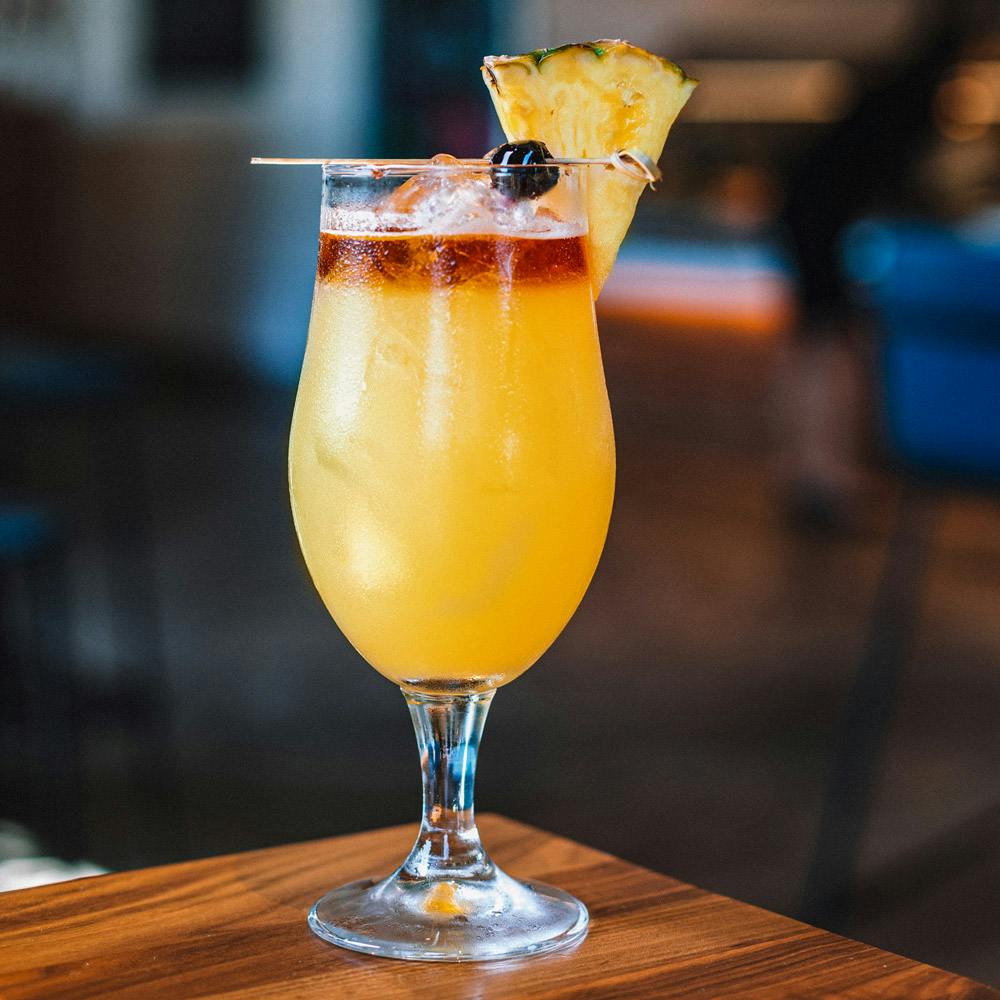 Cocktails
SBGT (Santa Barbara Gin and Tonic)

Cutler's Gin, tonic, rosemary simple syrup, fresh orange juice, fresh lime juice and a rosemary sprig served over ice

$13.50

Captain's Mai Tai

Gosling's Black Seal and Bacardi Silver Rum, Cruzan Coconut Rum, pineapple juice, lime, triple sec, almond and simple syrup

$14

Aperol Spritz

Aperol, Ruffino Prosecco, soda water and orange wedge

$15

Te-Killa Time

Mi Campo Reposado Tequila, cucumber, absinthe, fresh lime and pineapple, simple syrup, served up

$14

American Mule

New Amsterdam American Vodka, Amaro Averna, ginger beer, fresh lime and simply syrup

$13.50

Pilikia Margarita

Cuervo Tradicional Blanco Tequila, De Kuyper Triple Sec, fresh lime juice, agave syrup and orange bitters

$13.50

Cucumber Mojito

Myer's Platinum Rum, fresh cucumber and mint, fresh lime juice, soda water and agave syrup

$13.50

Serrano Margarita

Cuervo Tradicional Blanco Tequila, De Kuyper Triple Sec, freshlime juice, splash of fresh orange, organic agave nectar and hand-crushed freshserrano chili

$13.50

Drunken Pigeon

Espresso Martini crafted with Low Pigeon Espresso, Cutler's Cold Brew Liqueur, Chocolate Liqueur, New Amsterdam American Vodka, and simple syrup

$14

Fisherman's Mary

New Amsterdam American Vodka, housemade Bloody Mary mix, served with bamboo skewered shrimp, pimento stuffed olive, lime and pickled green bean

$14
Shooters
Michelada Oyster Shooter

Salted rim, beer, worcestershire, tabasco and lime

$5

Shucker's Choice Oyster Shooter

Vodka, bloody mary mix, horseradish and lemon

$6
Draft
High Spot 289 Blonde

High Spot 182 IPA

High Spot 152 Amber

$8.50

Kombucha, Boochcraft

Cali Squeeze, Blood Orange Hef

805 Blonde Ale

Mind Haze Hazy IPA

Firestone Walker Cerveza

Union Jack IPA

$9

Fig Mtn Lizard's Mouth IPA, Santa Barbara

$10
Bottles & Cans
Michelob Ultra

Coors Light

Beck's (Non-Alcoholic)

High Noon Hard seltzer

$7.50

Modelo

Stella Artois

Heineken

Anchor Steam

$8

Rotating Local Selection

$9

Draft Beer Flight

Choose three 5 oz samples

$9
Beverages
Panna Still / San Pellegrino Sparkling

Liter 8

Iced Tea, Lemonade, Sodas, Hot Tea and Coffee

$3.75

Espresso

Single 4.5 | Double 8
Vino
6oz / 9oz / bottle available

Listed from sweetest to least sweet or milder to stronger. We feature the most recent vintage available from each winery. Please inquire for more information.

–

Rosé All Day

Margerum, Grenache, Santa Barbara

14 / 21 / 52

Chateau D'esclans, Whispering Angel, Provence

15 / 22 / 58

Frequency Rose, Santa Barbara County

16 / 24 / 62

Sables d'Azur, Provence France

12 / 18 / 46

Bubbly

Ruffino, Prosecco, Italy

11.5 / 44

Veuve Du Vernay, Brut, France

10.5 / 48

La Marca, Rose Prosecco, Italy (187ml/split)

$14

Schramsberg, Blanc de blanc, Napa

84

Veuve Clicquot "Yellow Label", France

$150

Sauvignon Blanc

Charles Krug, Napa

13.5 / 20.5 / 52

Oyster Bay, New Zealand

12 / 18 / 46

Storm, Santa Ynez Valley

14.5 / 21.5 / 54

Rusack, Ballard Canyon, Santa Barbara, CA Estate Reserve

15 / 22.5 / 58

B&G Bordeaux Blanc, France

12.5 / 18.5 / 48

Chardonnay

Simonnet-Febvre, Chablis, France

$68

Joseph Drouhin, Macon Villages, France

14 / 21 / 52

Edna Valley, San Luis Obispo

12.5 / 18.5 / 48

Nielson, Santa Barbara

13 / 19 / 50

Loring Chardonnay, River Quinn, Santa Barbara County

16 / 24 / 62

Rombauer, Carneros, Napa

$84

Trefethen, Oak Knoll, Napa

14.5 / 21 / 54

Chalk Hill, Sonoma

13 / 19.5 / 50

The Landing Boathouse, Bay of Islands, New Zealand

14.5 / 21.5 / 56

Pahlmeyer, Napa

$160

White Varietals

Marqués de Riscal, Verdejo, Spain

11.5 / 17.5 / 44

Kung Fu Girl, Riesling, Washington

12 / 18 / 46

Maso Canali, Pino Grigio, Italy

13.5 / 20 /52

Acrobat, Pinot Gris, Oregon

13.5 / 20 / 52

Abadía de San Campio, Albariño, Estate

13 / 19.5 / 50

J. Wilkes Pinot Blanc, Sta. Maria Valley

12.5 / 17 / 48

Frequency Blend, (Viogner/Grenache), Santa Barbara County

13.5 / 19.5 / 52

Hermit Crab, Viognier-Marsanne, Australia

14.5 / 21.5 / 55

Carr, Lyons Vineyard, Los Olivos District

16.5 / 24.75 / 64

Pinot Noir

Château de la Crée, Burgundy

$78

Oyster Bay, New Zealand

12 / 18 / 46

Four Graces, Willamette, OR

16 / 24 / 62

Melville Estate, Santa Rita Hills

16.5 / 24 / 63

Carmel Road, Santa Barbara

11.5 / 17.5 / 44

Gary Farrell, Russian River Valley, California

$88

Cabernet

Avalon Cabernet, Napa Cellars, California

11.5 / 17 / 44

Serial Cabernet, Paso Robles, John Anthony

14 / 21 / 54

Jordan Cabernet, Alexander Valley

$120

Red Blends/Varietals

Querceto, Chianti Classico, Tuscany

13 / 20 / 48

Don Miguel, Malbec, Argentina

12 / 18 / 46

Carr Cab Franc, Santa Ynez Valley

$56

Frequency, GSM, Santa Barbara

15 / 22 / 58

Margerum Grenache, Santa Barbara

$82

Mouton Cadet-Rothschild, Bordeaux

15 / 22 / 62

Pessimist, Daou, Paso Robles

13 / 19.5 / 50

Carr, Grenache, Lyons Vineyard Los Olivos District, Santa Barbara

16.5 / 24.75 / 60
Happy Hour
Get Happy Tuesday to Friday 3:00-6:00pm. Available in the bar only.
Drinks
Bottled Beer

$8

Draft Beers

$6.50

House Cocktails, Margarita, Wine & Bubbly

$8

Handcrafted Cocktails

$10

House Vodka or Gin Martini

$9

Featured Local Wines

Nielson, Chardonnay

Storm Sauvignon Blanc

J Wilkes Pinot Blanc

Carmel Road, Pinot Noir

Pessimist, Daou Red Blend
$6
Panko Artichoke Hearts

Charred Edamame

Pretzel Bites with Cheese Sauce

Garlic Parmesan Fries
$8
Crispy Calamari Strips

2 Blackened Fish Tacos

2 Firecracker Shrimp "Tacos" in Lettuce Cup

3 Oysters on the Half Shell
$12
Bar Slider & Fries

Steamed Clams

Baked Crab & Artichoke Dip
Brunch
Saturday and Sunday 11am-2pm
Granola Parfait

Granola, berries, banana, coconut, honey, pepitas

$12

Avocado Toast

Two sunny side up eggs, bacon, charred scallion cream and radish

$15

Crab Benedict

Poached eggs, toasted English muffin, lemon hollandaise and breakfast potatoes

$20

Aussie Scramble

Mushroom, red onion, red bell pepper, cotija, sliced avocado with breakfast potatoes

$16

Salmon Gravlax

House cured Norwegian Salmon with sliced heirloom tomato, boiled egg, dill cream cheese, masago and a bagel

$18

Steak & Eggs

7oz NY steak, two eggs and breakfast potatoes

$26

Kid's Brunch

Bacon, breakfast potatoes, fresh fruit and an egg (10 and under)

$12
Drinks
Build your own mimosa or bellini

Bottle of house Champagne, fresh cut strawberries and choice of two juices: pineapple, peach puree, cranberry, pomegranate, or orange juice

$25

Fisherman's Mary

Drake's Organic Vodka, housemade Bloody Mary mix, served with bamboo skewered shrimp, pimento stuffed olive, lime and pickled green bean

13 | Bloody Refill 8

Bailey's or irish Coffee

Your choice served hot or iced

$10
Platters
Prices subject to change
2 lb Shrimp Cocktail Platters

30 chilled jumbo shrimp with cocktail sauce and lemon

$45

4lb Shrimp Cocktail Platter

60 chilled jumbo shrimp with cocktail sauce and lemon

$85

Salad & Chowder Combos

Choose a pint for two, quart for four or gallon for 16 cups of our housemade chowder with fresh garden salad, choice of dressing and fresh hot sourdough bread and butter

Quart of Chowder with Salad $40

Pint of Chowder with Salad $19.50

Gallon of Chowder with Salad $150
Family Style
Cioppino Family Style

A zesty marinara broth with shrimp, scallops, mussels, clams, fresh fish and crabmeat. Includes salad and garlic bread

Serving for Two $55

Serving for Four $110
Meal Kits
Prices subject to change
Fresh Fish Meal Kit for 2

Your choice of two uncooked 7 oz fresh fish portions with choice of two sides and our housemade chowder or dinner salad with hot sourdough bread

Salmon 50

Swordfish 55

Halibut 65

Lobster Roll Kit

Includes ingredients to assemble two or four lobster rolls with cole slaw and housemade chowder for each portion

Serving for Two $65

Serving for Four $130

Steak & Lobster Kit for 2

Includes two 8 oz. prime top sirloin steaks, two 11 oz. lobster tail, drawn butter, choice of chowder or salad for two, two side dishes and fresh hot sourdough bread & butter, choice of two sides

$150